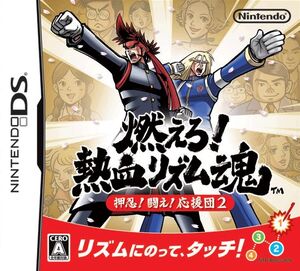 Moero! Nekketsu Rhythm Damashii Osu! Tatakae! Ouendan 2 is the sequel to Osu! Tatakae! Ouendan.
Six years after the first Ouendan game, we see The Cheer Squad ready to face another year. This time, a new squad appears, The Encouraging Nobility. The game uses the exact same game mechanics as the previous Ouendan game, with some new features from Elite Beat Agents, such as single-cart multiplayer and a 3-D map.
Characters
Edit
The Cheer Girls:
The Cheer Maidens:
Main helped characters
Edit
Song list
Edit
♪ - denotes that the track is performed by the original artist.
Bonus Songs
Edit
These songs are unlocked by earning more ranks, which is achieved by gaining a high enough total high score.
Orange Range - "Monkey Magic"
NANA Starring Mika Nakashima - "Glamorous Sky"
ZZ - "Samurai Blue" ♪
External Links
Edit