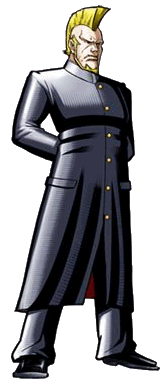 Ittetsu Suzuki (鈴木 一徹, Suzuki Ittetsu) is the Yuuhi Town Ouendan's left-hand man. He has a yellow mowhawk. In the second game, he grows a beard (as seen in picture). He is voiced by Hiroki Naitou.
Trivia
[
]
Despite his profile in the first game saying he hates stubbornness and inflexibility, his first name still means "stubborn".
He is named after the lead animator of the series, Kazuyuki Suzuki. Because the name is written the same way, the Elite Beat Agents website lists his name as "Ittetsu Suzuki".