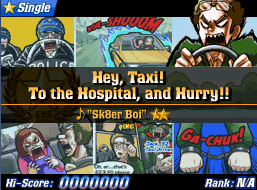 Hey, Taxi! To the Hospital, and Hurry!! is the name of the third episode in Elite Beat Agents. The song that plays is "Sk8er Boi", performed in this game by Angela Michael.
Summary
[
]
The level features Jack, a mild-mannered taxi cab driver who happens to overspeed whenever he wants to get his clients to their destination. He can't overspeed again or else he'll lose his license, but trouble strikes when his most recent passenger is revealed to be a very pregnant lady named Linda, who wants to get to the hospital before the baby arrives. Jack then has to use a wide array of stunts in order to get to his destination without getting caught.
Win and Loss
[
]
If you win, Jack sucessfully gets to the hospital only to press the meter again and either quickly get a man to a station or slowly and or get caught and run away with Poncho telling him to come over there. If you lose, Jack will get caught and be arrested breaking Code 512 and is left kneeling on the floor.
Characters
[
]
Jack

, age 32
Poncho, age 33 (police officer)
Linda, age 25
other police officers
Guest Appearances
[
]
Tex

Bill Mitchell

Bill's coach

Tsuyoshi Hanada

?
Trivia
[
]
The scene is based on the first few minutes of The Tuxedo, starring Jackie Chan as meek cabbie James "Jimmy" Tong.